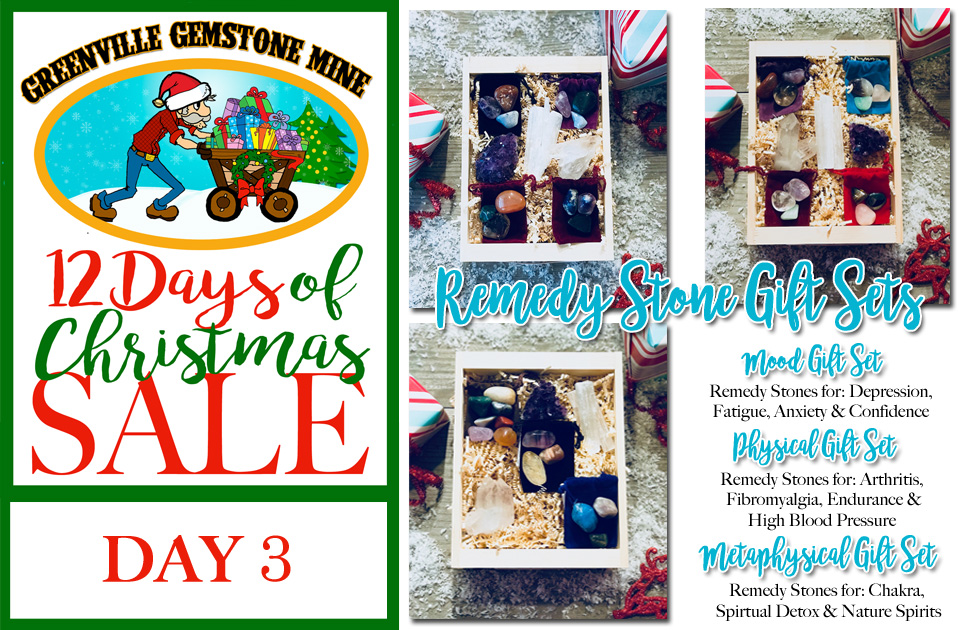 Our Remedy Stone Gift Sets are our Day 3 Item of the Day!
Today we celebrate day 3 of our 12 Days of Christmas Sale!  Today's Item of the day is our Remedy Stone Gift Sets.  We have  Physical, Mood and Metaphysical gift sets that will make a great gift for that hard to shop for person on your list.  Our Remedy Stone Bags are a popular item in our stores.   These gift sets normally sell for $40.00 each. Beginning today they are now 50% off during our Sales Event.  Our Physical Gift Set includes Remedy Stone Bags for Arthritis, Fibromyalgia, Physical Energy and High Blood Pressure.   Our Mood Gift Set includes Remedy Stone Bags for Depression, Anxiety, Fatigue and Confidence.  Finally our Metaphysical Gift Set include Remedy Stone Bags for Chakra, Metaphysical Detoxification and Psychic Energy.
These are a fantastic and unique gift for anyone in your life who may struggle sometimes with these common physical or mood ailments or anyone of whom may enjoy meditative or metaphysical practices.
Remember you can only find these unique gifts on-line and at our Chimney Rock and Greenville locations!  Quantities are limited so be sure you stop in today!  Tune in tomorrow as we announce a new item of the day!